Boiler Installations in Bristol
We are also proud to offer boiler installation services throughout Bristol and Bath, including Whitchurch, Stockwood, Swindon and Keynsham.
Looking for a qualified Gas Safe registered engineer to help you install a new boiler in your home? Well, look no further because here at United Heating, we can help you. Simply call us on 07817790025 to find out more information.
If you'd like to get an instant estimate on a new boiler installation, you can use our Boiler Estimate Tool below! All you need to do is answer a few questions about your property and we'll provide you with our recommended boilers and prices. Click the button below to get started...
(More: Boiler installations FAQs)
Boiler Installations across Bristol
Whether you are looking to get your current boiler replaced or upgraded, our engineers are ready to give you a helping hand. We will help and guide you from start to finish, this includes everything starting from choosing the right boiler for your home to helping you install it.
Types of boilers
There are many different types of boilers available that you can choose from. However, they are heavily dependant on the type of property you have and the amount of hot water needed for your home. The different types of boilers include:
Heat only boilers
Combi boilers
System boilers
If you are unsure of the type of boiler you need to install in your home, please check out our guide on which boiler is best for you and 5 things you should know about your new boiler. Alternatively, please feel free to speak to a member of the today and we will be happy to give you recommendations.
(More: The best time to install a new boiler)




Why you should hire Gas Safe registered engineers
Gas safe registered engineers are fully trained and qualified to carry out a range of gas work, including boiler installations, repairs and servicing, so you can have peace of mind knowing that you are in safe hands. Their work is constantly checked to ensure it is completed to the highest standards and meets your requirements. If you do come across any issues, it is also easy for you to report them.
You will be glad to know that here at United Heating, we are Gas Safe registered! Our engineers are available across Whitchurch, Stockwood, Keynsham and the surrounding areas. If you would like to book a boiler installation service with our engineers or you would simply like to know more, send us a quick message by clicking the link below.
(More: Common boiler problems)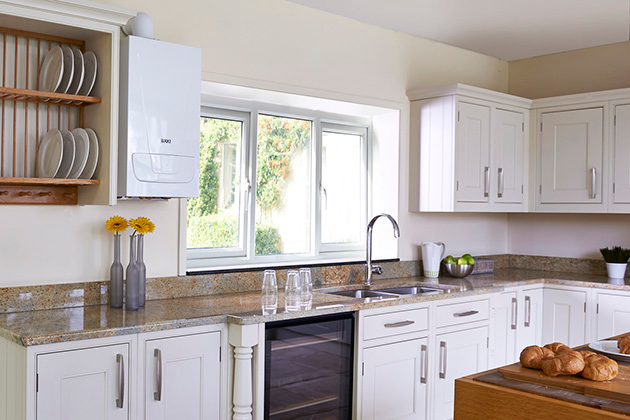 Boiler brands we trust and use
When installing a new boiler on behalf of our customers, we want to ensure that the boiler we install is of great quality. That's why we only use some of the leading boiler manufacturers in the UK, namely Baxi, Worcester Bosch and Ideal. All have a fantastic reputation within the industry and we can provide warranties on each to give you peace of mind.
As well as this, we are a Baxi Approved Installer. For more information on what it means to be Baxi Approved, please click here.
More:
What does it mean to be a Baxi Approved Installer?
When Do I Install a New Boiler?
If you aren't sure when you need to install a new boiler, there are often signs that suggest it is time to install it sooner rather than later. These signs include:
When you find yourself constantly getting your boiler repaired.
You are starting to hear strange noises coming from your boiler such as gurgling.
When you constantly need to switch your boiler back on.
There are many more signs that show it is time you get a new boiler installed. If you have noticed something about your boiler that is not listed above, please give us a call.
Here at United Heating, we have installed plenty of boilers across Bristol and Bath. You can browse through our previous work by heading over to our gallery page.
(More: How to choose an eco-friendly boiler)
Benefits of a boiler new boiler
Even though getting a new boiler installed can be slightly costly, it has plenty of benefits that can help you in the long run. We have listed a few of these benefits for you!
High inefficiency
Boilers tend to contribute the most towards your household energy bills, therefore having an efficient boiler can have a huge impact on your bills. Newer boilers tend to be high in efficiency, helping you save lots on your energy bills.
Smaller size
Newer boilers are smaller in size, making it easy for you to have them installed anywhere! Whether you want it hidden inside a kitchen cupboard or up on the wall, we can help discuss your options with you!
Adds value to your property
If you have a Gas Safe registered engineer install your new boiler, it helps increase the value of your property.
(More: New Boiler 2020)
Why choose United Heating?
Our heating engineers are on hand to help you choose the right boiler for your home and help you install it. We ensure all work is completed on time and meets your requirements, so you can be assured that all aspects of a boiler installation are taken care of.
Not only are we Gas Safe registered, but we are also fully trained and qualified to install a range of oil and LPG boilers! Our customers across Bristol and Bath are highly pleased with our professional boiler installation services, you can also read through their reviews by visiting our reviews page.
(MORE: Benefits of installing a new boiler)
Get a New Boiler Installed Today
If you are based in Whitchurch, Stockwood, Swindon, Keynsham or the surrounding areas and want to get a new boiler installed, call us on 07817790025 and speak to our engineers today. Alternatively, you can also send us a message using our contact form or email us at info@unitedheat.co.uk and we will get back to you as soon as we can.
We hope you choose United Heating for any boiler installation services that you may require.